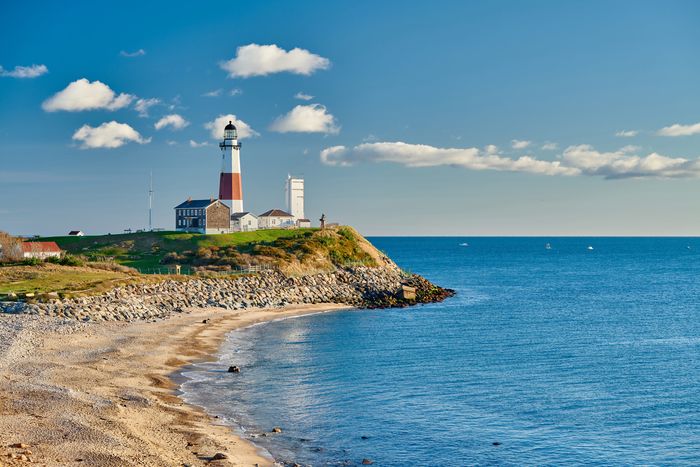 Photo: Getty Images/iStockphoto
Every May to September, wealthy New Yorkers who may or may not have done financial crimes flee the city to beach enclaves up and down the East Coast. Normally the moats filled with alligators are enough to keep people feeling relaxed in their second and third homes, but this summer, all is not fine in vacation town. Here, a tour through the various complaints registered by the part-time residents and full-time locals of some of the country's most expensive Zip Codes.
Nantucket is the New England destination for rich people who love whaling culture (aesthetically) and having generational wealth that dates back further than their peers. Now, it's being destroyed by young TikTok influencers who have discovered the island, according to at least one somewhat thin New York Post story, as a place to live out their "coastal grandmother" fantasies, upsetting some locals who share their taste. (The vibe is for those who "love Nancy Meyers movies, coastal vibes, recipes and cooking, Ina Garten, cozy interiors, and more.") One resident called these apparent intruders "wash-a-shores" who are "wiping the Nantucket identity away," complaining that an island made of sand and shiplap has now "turned rather monotoned and beige."
The Hamptons were ruined for Carrie Bradshaw by Big's untimely death (and Charlotte's daughter, for having a piano recital), and now it is being destroyed for others by a number of things: First, too many noisy helicopters (or too few, depending on who you ask). Also, sharks. While these ancient creatures are experiencing a magnificent rebound and certainly not looking to hurt humans, Audrey Jongens, a 24-year-old living in the Financial District, told the Post that she refuses to swim in her favorite Hamptons beaches this summer. She is now tragically limited to private and rooftop pools. "If the water isn't crystal clear, if I can't see the bottom, I am not going in, considering the shark attacks," Jongens said.
Sag Harbor, a Hamptons bayside town, is being ruined by too many enormous storefront flower arrangements.
Montauk, which takes pains to distinguish itself from the rest of the Hamptons, is being ruined by dancing. Local officials are apparently disgruntled about the fact that people have been dancing in town at places they're not supposed to and are raiding and fining restaurants that aren't designated as nightclubs. The East Hampton Town supervisor claimed that it was actually about these spaces being overcapacity, but one restaurant owner framed the dancing crackdown to the Post as "petty and small overlords from East Hampton who want to impose their idea of ​​order on Montauk."
Martha's Vineyard, where people go to vacation with the Obamas, is being ruined, specifically for Alan Dershowitz, by cancel culture. The island is the lawyer's summer getaway, and Dershowitz claims he's now been shunned from speaking at various locales after defending Donald Trump and Jeffrey Epstein. "I want to make it clear it's not about me," Dershowitz humbly told The New Yorker of his seaside deplatforming. "It's about the other people in Chilmark who want to hear my views." Meanwhile, the island is being destroyed for everyone else by the existence of Alan Dershowitz.