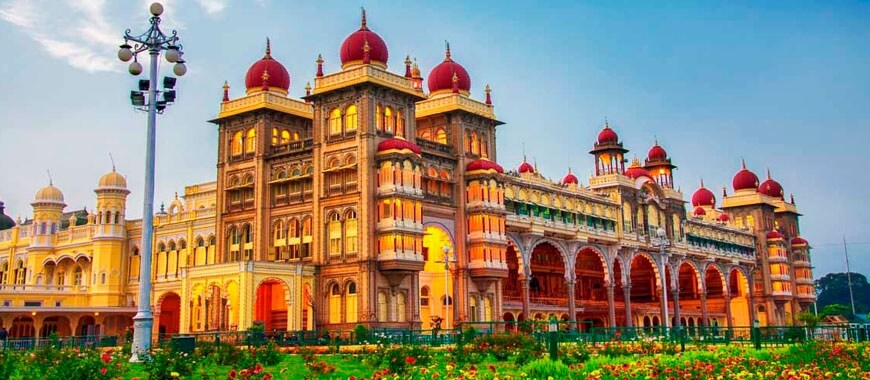 India is a country with a rich culture and heritage. Numerous valorous emperors ruled India.  The greatness of India lies in its incredible architecture. The forts and palaces built during the rule of these emperors are an architectural marvel. Each emperor built castles and fortresses in a unique style. These palaces and forts are the pride of India. The beauty of the intricately carved interiors of these palaces has no worldly parlance.
It will always be a great idea to spend a vacation visiting these spectacular palaces. Most of these palaces are located in Rajasthan. Many of the palaces are converted into hotels and museums. Here is a list of the palaces you must visit in India before you die.
The Palace of Mysore
The Palace of Mysore is also known as "Amba Vilas Palace". It belongs to the Wodeyar kings who ruled Mysore during the 14th century. This palace is the 2nd most famous tourist attractions in India. The interiors of this palace are a feast for the eyes.
Laxmi Vilas Palace, Gujarat
The Laxmi Vilas Palace was built in the old classical style by Gaikwad. It is situated in Vadodara. It is also known as the Maharaja Palace. It is converted into a museum now. It is a hub for all cultural events and music concerts.
Jahangir Palace, Uttar Pradesh
The Jahangir Palace is located in Agra. It was built by the Mughals. It showcases the glorious Mughal architecture. It is located inside the Agra Fort. To head to this place and enjoy the beauty of Mughal architecture, book your Mumbai to Delhi flights and arrive at Agra. Online booking of Mumbai to Delhi Flights will be most beneficial.
Umaid Bhawan Palace, Jodhpur
It is one of the largest residences in the world. It was the residence of the royal family of Jodhpur. It has around 347 private rooms. It has three parts: A museum, a royal residence, and a luxury hotel. The gallery inside the palace has a mind-blowing collection of paintings, art crafts, and automobiles.
Hawa Mahal, Jaipur
This palace is one of the most popular palaces in India. It has a unique construction style. It is a five-storeyed palace which is made of pink and red stones. It has 953 windows. These windows are a specialty of this place.
Jal Mahal, Jaipur
As the name suggests, this grand palace is located in the centre of the Man Sagar Lake. The structure is a mixture of both Mughal and Rajput architecture. It was constructed by Raja Sawai Pratap Singh in 1799.The specialty of this palace is that it is a five-storeyed palace, but only the top story is visible.  Rest of the palace is submerged under water.
Jag Mandir Palace, Udaipur
This palace appears to be a beautiful island in the Pichola Lake. It is now converted into a world-class hotel. White marble statues of life-sized elephants are found in this palace.
City Palace, Udaipur
This palace is an epitome of the rich Indian culture. This is another marvel of both Rajput and Mughal architecture. The famous Jagdish temple of Udaipur is situated in this palace. The specialty of this palace is that it houses 11 other palaces within itself.
There are many other palaces in India with unparalleled beauty. But these were some of them which you cannot afford to miss.