Longtime friendships are bound to have their ups and downs, but whether you and your pal go the distance usually depends on how you handle difficult situations.
One Mumsnet user asked the popular parenting site for advice after her best friend assumed she was invited on her family vacation.
Post to the AIBU (Am I Being Unreasonable?) forum on August 24, user holidaynightmare explained she'd planned the holiday as a 40th birthday treat for her husband.
The vacation is the first time the couple and their two children, aged 7 and 4, will have traveled overseas since the outbreak of COVID-19. However, when discussing the plans with her BFF, her friend assumed she was also invited.
"My best friend is getting divorced – she has 2 kids and doesn't want to go on holiday on her own," she said.
"She thinks she is coming with us and j keep getting 'oh the kids will be so excited' and 'I'll have to come over so we can look online together.'
"I have several issues with this, the biggest being I want us as a family to go as a Family not with her and her 2 kids (age 10 and the sulkiest 14 year old on the planet!!)."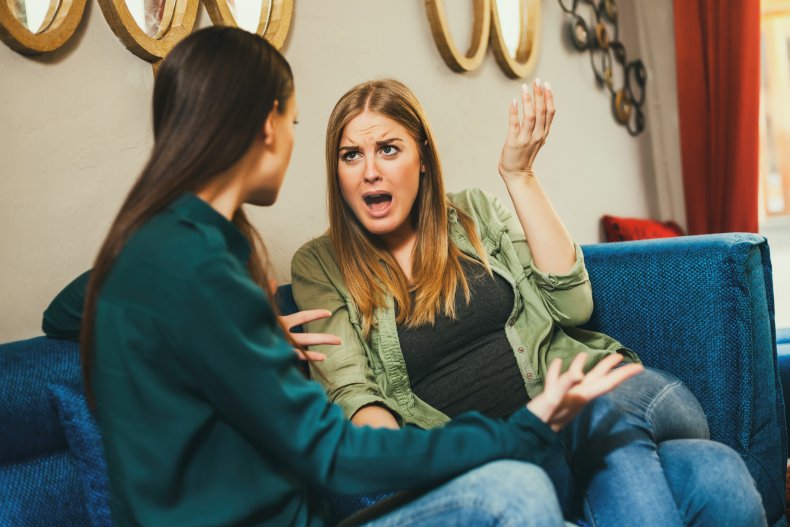 As her friend is having a rough time, the poster doesn't want to upset her, but also doesn't want to miss out on family time with her husband and children.
"Am I being unreasonable?" she asked.
Research conducted by The Book of Everyone in 2019 suggested that on average we make 29 "real" friends throughout our lifetime. Surveying 2,000 people about their social lives, researchers discovered that friends come and go for numerous reasons, with only six out of 29 friendships ending.
Although the study found that friendships last an average of 16 years, we only lost around five of these relationships due to a falling out. Major lifestyle changes, such as moving, starting a family or a job change were more likely to make a friendship fizzle, while six out of 10 participants reported friendships that ended for no apparent reason.
Many Mumsnet users were confused why the friend thought she was invited, with user Seafretfreda writing: "It's wildly inappropriate for her to assume and invite herself on your DH's 40th birthday trip – who does that?"
"So basically she thinks she's going with you because she has decided she is," said ClaryFairychild.
Other users felt the poster should have clarified the situation when it occurred, instead of letting it drag on and become more and more awkward.
"You should have nipped this in the bud straight away really," commented Allmarbleslost.
"Speak to her smoke before she tells her kids all about the wonderful holiday they're not going to have!"
"Sometimes you have to disappoint people or upset them. It is just life," wrote Luredbyapomegranate.
"The longer you delay, the worse it will be for her," agreed WhereYouLeftIt.
While SunshineAndFizz advised sending her friend a message reading: "Hi friend, with it being [partner's] big birthday we've decided to just have a holiday with the family this time.
"I hope you understand. But we'd love to do something with you and the kids any other time soon."
Holidaynightmare isn't the only Mumsnet user to go viral with a vacation dilemma. A woman was blasted online earlier this month for refusing to pay her fair share of a vacation rental with friends, while another was slammed for pulling out of a planned trip with a friend over a last-minute party.
Newsweek wasn't able to verify the details of this case.
If you have a similar family dilemma, let us know via [email protected]. We can ask experts for advice, and your story could be featured on Newsweek.