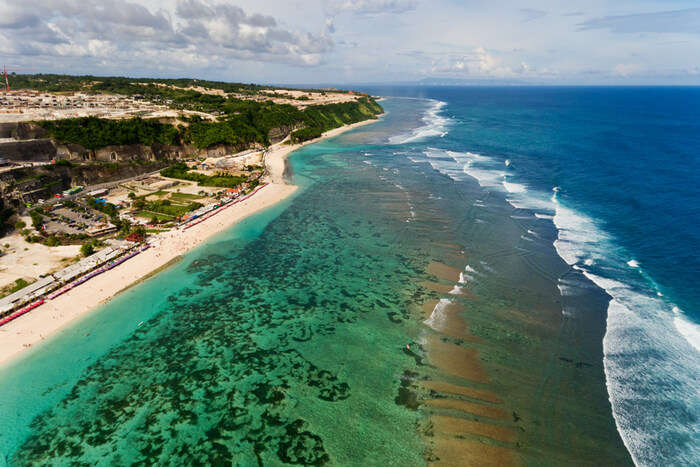 One of the destinations that attracts the attention of travelers is Bali Pandawa Beach.
Its located in Kuta area and have a difference athmosphere.  Like Kuta Beach for example.
Even though now it's not as secretive as before, it doesn't mean that the charm is fading, huh. This one object still has a charm that is ready to be explored by anyone who intends to find a charming beach scene.
Another beach try to attract tourist to visit them. But Pandawa opened because tourist force to visit.
The history of Bali Pandawa Beach begins with the functioning of this destination as a place to run the Melasti Ceremony. This ceremony is a kind of ritual of purification for Hindus as a preparation to face Nyepi.
Because of this, people around here call this place Melasti Beach. In addition to religious rituals, objects located in Kutuh Village are often used as fields for seaweed breeding.
To be able to reach this place, the surrounding community must try extra hard. They must be willing to walk at least 4 km, along steep roads and up and down the cliffs to be able to perform rituals here.
So remote, no one knows the existence of this beach other than the surrounding community. Until one day, some foreign tourists who want to find a more private place to surf start reaching the destination located in South Bali.
Of course information about the location of Pandawa Bali Beach is not from a review of hotel or tourist booking sites, but from word of mouth.
They like surfing here because they think the waves are good. They have an idea to called with Secret Beach
on 2004 the Government try to build access to the beach. But it's not completely perfect. Visitors are no longer foreign tourists, but domestic tourists too.
In 2010, the number of visitors increased. This makes prajuru village (those who hold authority in the village) begin to take steps. They plan to open this destination to become a tourist area.
On December 2012 , its open for public visit. And they called with Pandawa
As a promotional event, the organizer held a festival called Pandawa Beach Festival in 2012.
Why choose the name Pandawa? They et the name from Mahabaratha Book.